Wireless Devices & Products

Your Complete Source, from Design to Production
Radio Design Group provides complete, turnkey service at all levels in the product cycle. We start with an extensive effort to determine client requirements, which are then constantly refined during the process. The next step is the architectural design, followed by the detailed engineering.
Design-only firms stop at this point, and, if client requirements dictate, so do we. However, wireless devices, especially in high-performance systems, frequently require a level of manufacturing and testing performance not found in conventional manufacturing operations. Radio Design Group has the professional staff and facilities that specialize in this more demanding type of production environment. Below is a list of many of the areas of design and production in which we specialize.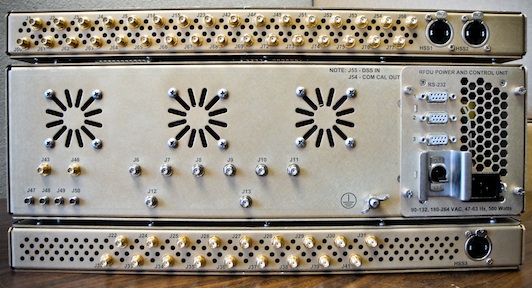 Part 15 Devices

Unlicensed, Consumer Oriented Wireless
We have extensive experience in Part 15 devices, technologies include spread spectrum, narrowband/low-power, using both analog and digital modulation formats. Applications include control, signaling, data and voice.
RF Ranging

Determining Distances Accurately
Our advanced work in this arena includes spread-spectrum ranging, including our advanced MVSK waveform, as well as more conventional GPS system engineering. We've done work for military applications, surveying and even measuring the distance to the green for golfers!

Paging Receivers

New Uses for an Old Technology
Radio Design Group has extensive experience designing paging receivers. Our unique technology was found in several of the "pager-watches" sold in the '90's, as well as credit card pagers, PC card pagers and even a PDA-pager combination. Recently, we have brought our narrowband waveform expertise to paging for military applications, assuring high performance and reliability for mission-critical applications.
Wireless Data Devices

More Than Just Wireless LANs
We've developed technologies for data transmission for both military and commercial applications. Everything from simple FSK-based devices to advanced jam-resistant military systems.

Spread Spectrum Devices

Getting the Right Technology for the Job
Our experience with spread-spectrum development encompasses several technologies. We fit the technology to the application, using a variety of techniques, including frequency hopping, direct sequence, fast frequency hopping and chirp.
Narrow Bandwidth Wireless Devices

Making the Most of Limited Spectrum Resources
Many spectrum users are faced with increasing pressure to reduce their transmission bandwidth. We have experience with a variety of technologies that optimize the amount of spectrum required, including advanced versions of ACSB technology for high performance analog voice applications.
Government & Defense

Exclusive Products & Systems
Innovation Combined with COTS Technology
We design beyond the conventional military approach, emphasizing technological innovation while using commercial-off-the-shelf (COTS) technologies to control costs and enhance performance. Our goal is to combine the innovation and performance of the commercial market with the reliability and ruggedness demanded by tough military applications.
Radio Frequency Distribution Units (RFDUs)
By combining modular design with unique filtering and switching and a highly rugged mechanical system, our comprehensive line of RFDUs meet a variety of applications for signals intelligence systems and other specialized receiver platforms. These systems operate over a wide frequency range (10 kHz to 18 GHz) while featuring advanced interference filtering and wide bandwidth matrix switching not found in any other unit on the market.
Jamming
We have extensive experience in creating a variety of jamming simulation tools for military applications, including synthetic beacon based tactical communication jamming simulators, as well as remotely controlled GPS jammers. Precision jamming simulation tools provide for enhanced realism in military training environments. For supporting DOD operational and technical test needs, they are essential for achieving high realism as well as effective control of data parameters during C4ISR testing.
Specialized Communications Systems
We design transmitters, receivers and related systems for military use, using a wide array of advanced technologies including digital signal processing, intelligent filtering, and adaptive hopping.
Commercial/COTS

Products & Systems
Quality RF Design for Demanding Applications
Our engineering and production team puts out the extra effort that makes the difference between a good design and a great one. Just as importantly, we offer post-design manufacturing and support that is unparalleled in both the military and commercial industry.
Automated Test Solutions
As part of our commitment to client support, we offer complete RF automated test solutions. Not just a simple "one-box" test setup, our systems measure every necessary characteristic, including path gain, isolation, noise figure, filter performance and switching times. Automated RF path switching makes these systems very effective, while reducing the amount of human intervention required to operate them. Full recording of results ensures performance traceability and a useful baseline for future system troubleshooting.
Advanced Filtering Solutions
We have developed a variety of advanced RF filtering solutions that can be applied to a variety of commercial and military COTS applications. These digitally controlled filters are available in frequency ranges from 10 kHz up to 18 GHz! Contact us with your exact requirements.